Every day the beauty industry and media tell us that being admired, envied, and desired based on their looks is a primary function of everyday life. The Love Your Body campaign challenges these messages. For more information, visit the campaigns official website!
Love Your Body Week is our annual celebration of body positivity and self-love! Occurring every Fall, The Love Your Body Festival is the highlight of our week long interactive programming. Join the MU Women's Center as we celebrate what makes us 100% unique! See below for this year's programming:
LYB 2019
Monday, Oct. 21
Love Your Body Festival
11 a.m.-1 p.m.
Lowry Mall
Join the campus community as we celebrate the practice of self-care and loving yourself! Journey through Lowry Mall to discover an array of resources. Free food provided.
Tuesday, Oct. 22
ED101
12:30-2p.m.
Women's Center
In this talk, Amanda Sloan of Aslana will discuss the myths versus facts of eating disorders. Free food provided for the first 25 people. Citizenship@Mizzou credit available.
Alsana is an Eating Recovery Community.  Combining data-driven, evidence-based treatment with a fresh, compassionate approach, Alsana focuses on total health and wellness in recovery from eating disorders and related conditions. A recovery community with five locations nationwide. We provide superior and committed care to help those on their journey to a healthy and successful recovery
LYB: Self Care Hour
4-6 p.m.
Women's Center
Loving your body means learning how to take time to practice self-care. Join us to learn some fun and easy ways to relax while releasing tension in your body and mind.
Wednesday, Oct. 23
Body Talks: Transition, Masculinity, and Body Liberation
5 p.m.
Women's Center
Join Shane Stinson, Instagram influencer and Mizzou staff, as he talks about body positivity and claiming his space on the social media platform. Citizenship@Mizzou credit available.
Thursday, Oct. 24
Tips for Raising Children with a Positive Body Image
3:30-4:30 p.m.
Women's Center
Bodies and Boudoirs
6 p.m. – 8 p.m.
Women's Center
Folx, it's time to get gorgeous! Arrive with your clothing and accessories, and leave with empowering photos of your radical self-love.  Photos sessions will be private.  All photos will be captured at participants' discretion.
Friday, Oct. 25
Cute as a Button
12-1 p.m.
Women's Center
Come to the Women's Center with the Health and Well-Being Peer Educators. Make a button and learn some great resources about body positivity!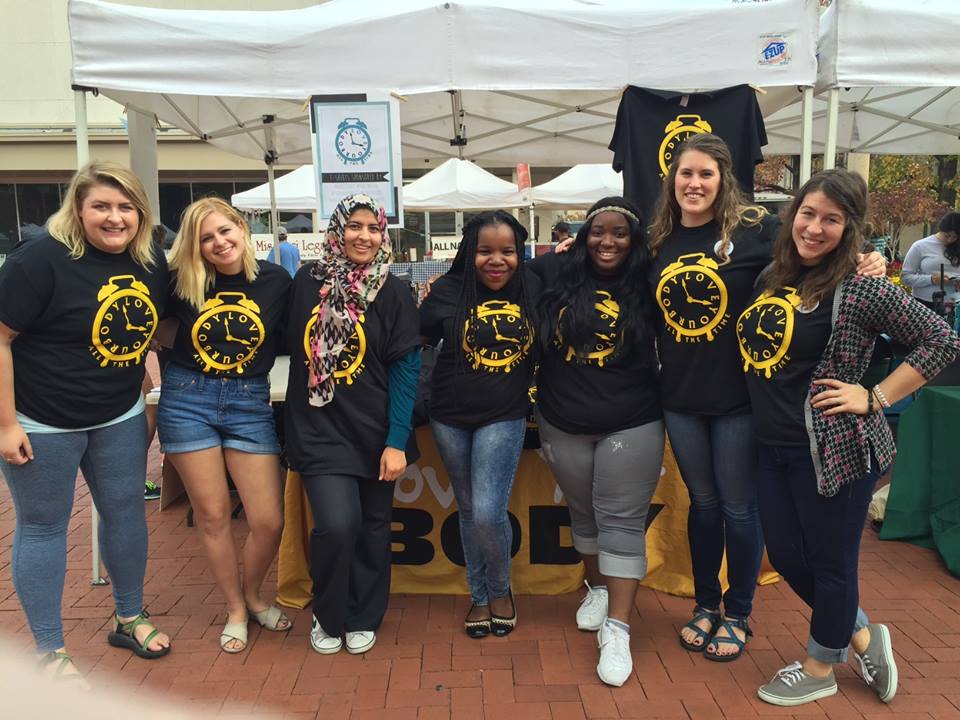 WC Staff at the 2015 Love Your Body Festival